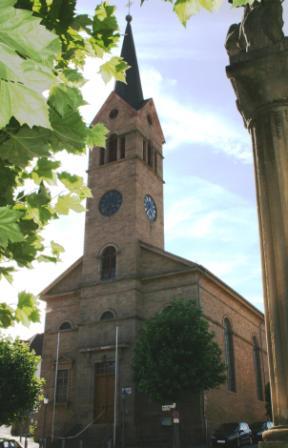 On the 12th of July 1829 the foundation stone was laid to build the Protestant Church and shortly after, on the 16th of October 1831, the church was inaugurated. The term "municipal church" is misleading and refers to a time in which only one denomination was predominant. The construction work was done by the "Bell Construction Company" of Kusel. The steeple is a landmark, overtowering all other buildings in Kusel and fits harmoniously into the historic atmosphere of the old town square.
The following events in the life of the Fritz Wunderlich family took place in the town church.
Baptism
On the 21st of February 1931 Fritz was baptized in the Protestant town church of Kusel by Pastor L.H. Baum. The baptismal records read as follows: Wunderlich Friedrich (Karl) Otto, born on the 26th of September in 1930.
Confirmation
On the 18th of March in 1945 at 6 o'clock in the morning, the confirmation service started with dean Andreas Cassel holding the church service. Shortly after, American fighter-bombers flew across town and the church doors were torn open, due to the pressure of the detonating bombs. Immediately, the dean blessed all the children, the church service was ended and the visitors flew  into the nearby air-raid shelters. It was an unusually quick service and Fritz's confirmation was recorded in the church register: Wunderlich, Friedrich born 26th of September1930, confirmed 18th of March in1945.
Marriage
On the 25th of August 1956 Fritz was  married in Stuttgart. The church marriage took place in Kusel with family members, early in the morning on the 5th of September 1956. The church marriage ceremony was held by dean Andreas Cassel, who also had confirmed Fritz. Witness to the marriage was sexton Otto Geminn.The church register reads the following: Wunderlich, Friedrich Karl Otto, tenor at the theatre of Stuttgart, born on the 26th of September in 1930 in Kusel, son of Paul Wunderlich, musician, died in Kusel and  Mrs Anna, neé Malz, Kusel. Jungnitsch, Eva-Maria Christa Isolde, Stuttgart, born on the 5th of December in 1934 in Stuttgart, daughter of Fritz Jungnitsch, chamber musician in Stuttgart and Mrs Hedwig, neé Geiger, violonist in Stuttgart.
Baptism
Constanze, the daughter of Fritz Wunderlich was baptized in Kusel on the 1st of May 1958. The baptismal register reads the following: Wunderlich, Constanze Marianne, born on 26th of August in 1957 in Berlin. Cassel, dean.