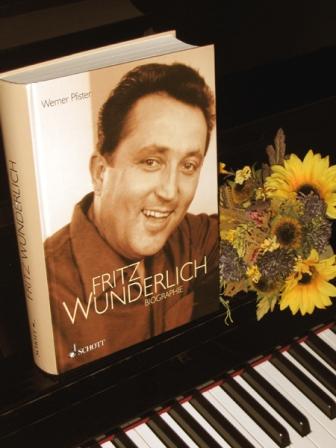 Diary Madeleine Preston
Madeleine Preston, now advanced in years, is one of the biggest fans of Fritz Wunderlich. She portraits him in the form of a diary describing all her personal impressions of him and his many concerts. Madeleine Preston is founder and honory member of the Fritz-Wunderlich-Society.
Madeleine Preston
Fritz Wunderlich aus der Sicht seines Publikums, 1965-1966
Paperback, 47 pages
Published by the FW Society e.V.
Biography of Fritz Wunderlich
In September 2010 the third edition of the Fritz-Wunderlich-Biography by Werner Pfister was published. This biography contains a CD with private recordings of Fritz Wunderlich which have never been published before. In the appendix is a discography updated by Fred Scharf.
Werner Pfister
Fritz Wunderlich Biographie
Hardcover, 459 pages + CD
Schott Verlag, Mainz
ISBN: 3-7957-0536-3