In the Benzinopark on Trierer Straße you can find a bronze bust of Fritz Wunderlich.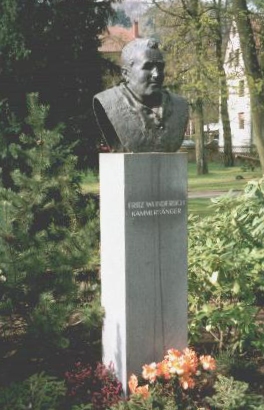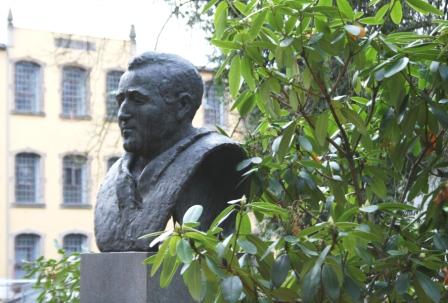 This piece of artwork was made by Professor Erich Koch. He worked on it from October 1972 until February 1973 with short interruptions. He casted the bust out of bronze and used a certain technique with melted wax. Creating the bust represented a challenge, as Fritz Wunderlich did not pose for it . Instead, Professor Koch only worked with photographs of the singer. He tried his best to perpetuate Fritz Wunderlich as a stage artist.
On the 8th of February 1973 he presented his work to the public for the first time together with Eva Wunderlich in Munich.
On the 9th of March 1973, a Saturday morning, the Fritz Wunderlich bust was handed over to the district of Kusel. After being exhibited  at the local bank (Kreissparkasse)  and at the local historic museum, this piece of art found its final destination at the town park (Benzino Park) on Wednesday the 17th of September 1986 at 19.30.The bust was presented in commemoration of Fritz Wunderlich's 20th anniverary of his death.